Blog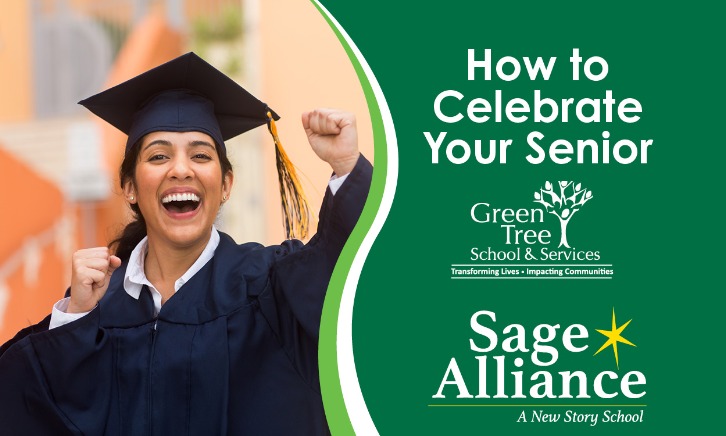 By Holly Ference
Transition Coordinator, New Story Schools
With less than a month remaining in the school year, we are nearing the time for some of our students to graduate.
Graduation is a major milestone. that Graduating not only signifies that a student has accomplished their academic goals, but also that her or she is taking their first step into adulthood – whether that be going on to college, trade school, a career or some other path. This accomplishment often calls for celebration, which can be difficult to pull off with COVID-19 safety guidelines and restrictions. Our partner, Sage Day Schools in New Jersey, has a great article about how to celebrate your senior and help them finish strong, despite the challenges that COVID-19 presents.
Your senior will face many obstacles in their life beyond school, and this major hurdle can really help to prepare them for those situations. All it takes to make sure graduation remains a special moment is some out-of-the-box thinking.
Suggestions include: virtual college reveal parties, organizing a socially distanced photo shoot, displaying yard signs, or having a graduation-themed ceremony or dinner at home. Additionally, due to nicer springtime weather, some schools are opting for outdoor ceremonies, which allow for social distancing and other factors of reduced spread. These suggested celebrations can help maintain some normalcy during unusual times.
The article notes, "As long as you are willing to think outside of the box and put some time and effort into it, you can still honor your seniors and celebrate their success!"
The article also lays out some tips on preparing your student for life post-graduation, noting that some of the current obstacles your student might be facing could be indicators of what they might face in the future.
To see some of our graduation celebrations, keep an eye on our Facebook Click here to visit the GreenTreeSchool facebook page page.
Want to be notified of new articles and resources from Green Tree Schools? Click here to submit your email and opt into our newsletter.