Blog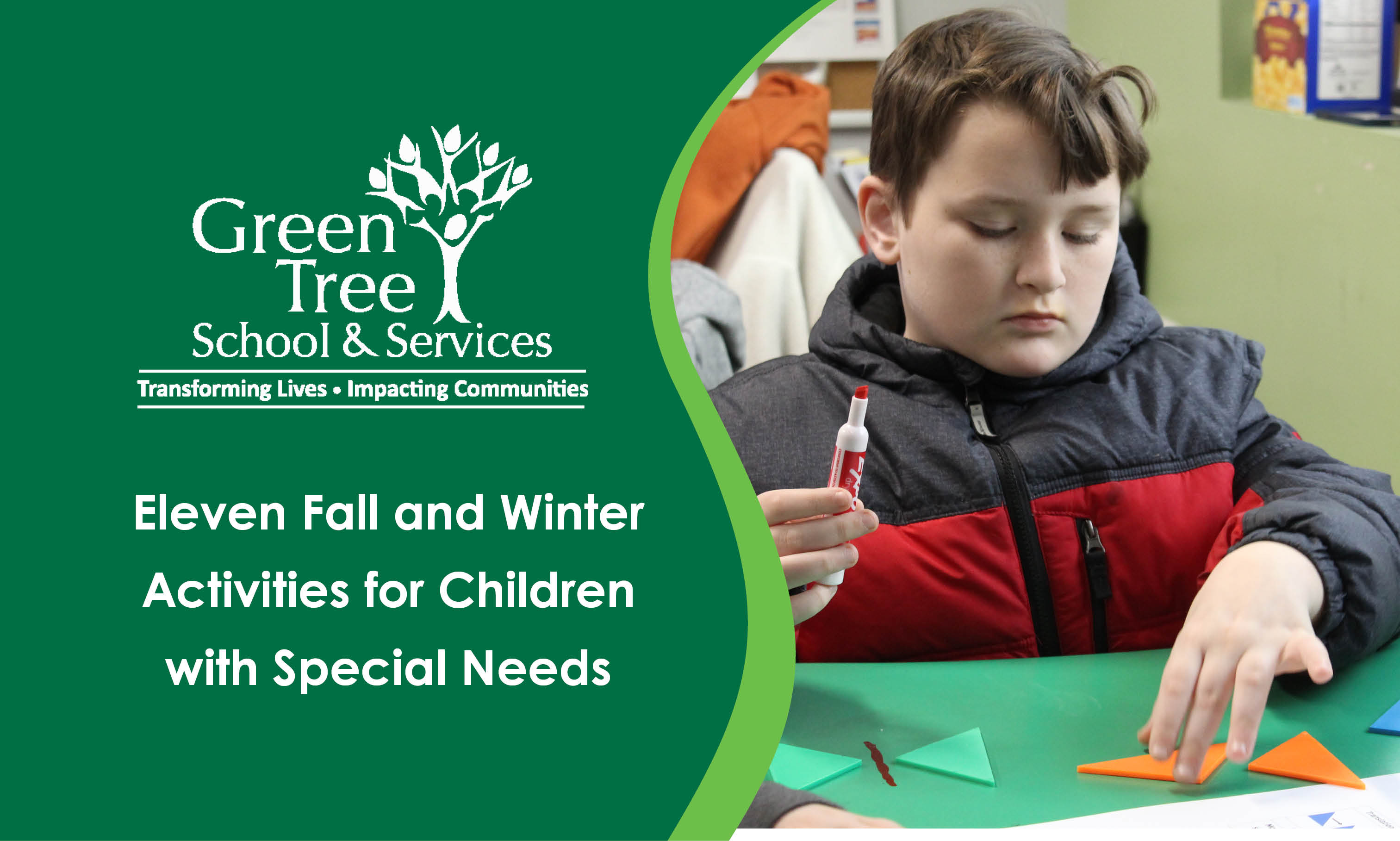 By Madison Gould, Academic Behavior Support Staff, Holli Waldon, Academic Behavior Support Staff, Elisabeth Furlong, Registered Behavior Technician, and Doreen Cofie, Operations Manager.  
As the leaves change color and winter approaches, families with children who have special needs may be wondering how to keep their little ones engaged and active during the fall and winter months. Thankfully, there are a variety of creative and sensory-friendly activities that can make this time of year enjoyable for both parents and children. We've compiled a list of ideas from four team members to help you create a well-rounded plan for fall and winter fun. 
1. Sensory Bins: 
Ease your child into the colder months with a winter sensory bin that can be set up inside your home. Fill a container with snow, building toys, or other items that pique your child's interest. This activity allows them to explore the concept of snow at their own pace, helping them get acclimated to the changing weather. Sensory bins are fantastic for children with special needs as they provide a tactile and engaging experience. 
2. Exploring the Outdoors: 
Don't let the colder weather keep you indoors. Encourage outdoor exploration in a way that suits your child. For kids who love art, try using food coloring and a spray bottle to create snow art. They can decorate snowmen or observe as the snow changes colors, making it a fun and creative winter activity. 
Some children with sensory aversions may be sensitive to the brightness of winter. Sunglasses can be a helpful accessory to reduce glare from the snow. Additionally, if your child resists wearing a coat, consider trying different types of clothing materials to find what works best for them. 
3. Fall and Winter-Themed Sensory Bottles: 
Another fantastic indoor activity is to create sensory bottles that capture the essence of fall and winter. You can make a "snow globe" using water bottles filled with water, glitter, themed figurines, and colored sparkling glue. These sensory bottles are portable and customizable, offering children a captivating visual experience. 
4. Arts and Crafts: 
Arts and crafts are a great way to engage children with special needs. You can engage in activities like painting pumpkins, making handprint ornaments, and tape painting. Tape painting, in particular, can help children with special needs work on fine motor skills while having fun. 
5. Nature Walks: 
If the weather permits, take your family on a nature walk. Use duct tape to create nature bracelets decorated with items found along the way. This activity can make walks more interactive and engaging for children, fostering a love for the outdoors. 
6. Cooking Together: 
Cooking can be a delightful family activity, and it doesn't always require a stove. Try making a fall trail mix with your children, incorporating items like pretzels, candy corn, and different types of dry cereal. Be creative and use pantry items to craft a unique trail mix together. 
7. Glow Stick Games: 
With shorter daylight hours, glow sticks can add excitement to your family's evenings. You can use them for games like tic-tac-toe, ring toss, or hide-and-seek. This activity can be particularly enjoyable for children with special needs as it combines visual and tactile stimulation. 
8. Sun Catchers: 
To bring more light into your home during the darker months, create wax paper sun catchers using various colored markers. These sun catchers can be a source of fascination for children with special needs, helping them engage with and appreciate the shifting light. 
9. Puzzles: 
Create your own puzzles as a family activity. Draw a picture on a cardboard box and cut it into pieces. Then, work together to put the puzzle back together. This activity promotes problem-solving skills and teamwork. 
10. Pumpkin Carving: 
Pumpkin carving is a tactile and sensory-friendly activity. It engages children with sensory issues while improving their fine motor skills. Let your child scoop out the pumpkin's insides and seeds, fostering a sense of touch. 
11. Nature Hunt: 
Organize a nature hunt in your local park or woods. Allow children to collect pinecones and acorns using tongs and tweezers, which can help improve grip and precision. Additionally, incorporate counting to enhance their numeracy skills by having them count the wildlife they encounter. 
In summary, fall and winter offer a multitude of opportunities for children with special needs to engage in sensory-rich activities and have fun with their families. By choosing activities that cater to their preferences and sensitivities, you can ensure that these seasons are filled with joy and exploration. So, embrace the changing seasons with a positive attitude and create unforgettable memories with your child. Remember, winter is inevitable, but fun is always accessible! 
Want to be notified of new articles and resources from Green Tree Schools? Click here to submit your email and opt into our newsletter.