Blog
Green Tree Wraps Up Charity Food Drive
Posted: December 20, 2021 | Written By: Melody Vaughn | Category: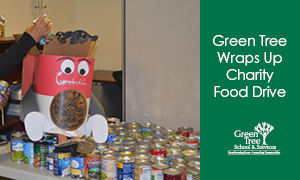 In an effort to give back to their community, Green Tree School and Services recently held a charity food drive. They collected a total of 536 food items which are being donated to a local charity to provide for families in need during the holiday season.
Most of the items donated were canned goods, but also included other nonperishable items such as boxed cereal, mac' and cheese, and ramen noodles.
These items given from Green Tree demonstrate the school's desire to give back to their community and make the world a better place.
Want to be notified of new articles and resources from Green Tree Schools? Click here to submit your email and opt into our newsletter.