Blog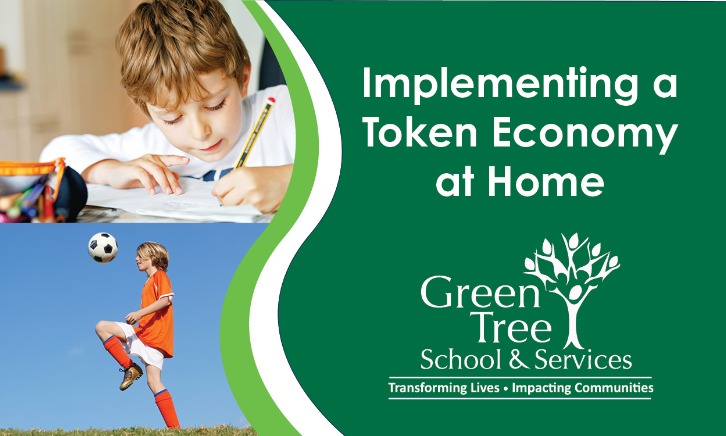 By Hope Beam Albert, BCBA
Regional Clinical Director, New Story Schools
Want to implement an effective and easy intervention for behavior change in the home? Look no further than a token economy!
What is a token economy?
A token economy is when an object or symbol is exchanged for an activity or item. Your child can be given a token for a chosen positive behavior that you would like to see more of. The token itself can range in form, from stickers to printed preferred television or game characters. An appealing token may increase the child's motivation.
Why implement a token economy?
A caregiver can utilize a token as frequently as needed to keep their child engaged, to promote a new skill, or to encourage desirable behavior. The use of a token, as opposed to a goldfish cracker or skittle, reduces the likelihood that the child will become bored or tired of a particular item. This can be particularly important for a child with limited preferences. The use of a token also limits disruption in a task by reducing the time needed to consume an edible or engage in a reinforcing activity.
Token reinforcement systems can be altered for learners of varying needs and abilities. A significant benefit of token delivery is that the frequency of token delivery can be increased or decreased as needed. This ensures that the skill can develop over time with less and less need for token delivery. Caregivers can use token economies to teach communication skills, toileting skills, peer conversation skills, daily living tasks, or academic skills.
New Story Schools currently use token economies across various classrooms and even schoolwide! A child is more likely to repeat a behavior if that behavior is immediately reinforced. This focus on behavior that is desirable and useful minimizes the attention and competing value that might come from less preferred behaviors.
Implementing a token economy system
Prepare a token chart and tokens. Put the token board in a place that will be visible to you (as a reminder) and your child (as a motivator). You may start with fewer tokens for the exchange initially, especially if your child is only beginning to understand "an exchange". One token may initially need to equate to one edible or activity. You can quickly increase token requirements once the child understands the exchange.
Pick a behavior that you want to promote! Focus on one behavior at a time and try to reframe your statements to the behavior you want to see versus the behavior you do not want to see. For example: "speaking in a calm voice" versus "no shouting". The child must have the skill that you want to reinforce. You might need to start small — such as helping your child pick up and place a toy in a toy box. You can reinforce this with a token, and slowly back away your level of support.
Each time your child shows the behavior targeted, you will want to give him or her a token to stick on their chart. You should label the behavior when giving the token, "I love that you made your bed by yourself". At first, you will want to reinforce the behavior each time, but you can plan to reduce the frequency that you give tokens as a skill is displayed. You may also increase the expectation that you have over time. For example, you may increase the number of math problems completed or the quality of a skill needed (writing, cleaning) for each token.
Identify some powerful reinforcers that tokens can be exchanged for. Some items should "cost" more tokens than others. This allows for increased desire to earn more tokens and save tokens. These reinforcers cannot be accessed by the child already! These must be things that the child can only access through the tokens you deliver. The chosen reinforcers must be desirable and explicit to the child, and easily accessible once earned. For example: watching TV, playing on the iPad, having a cookie.
Once all tokens are earned, exchange the tokens for the privilege immediately. Clear the board and start over.
Token economies are proven to be one of the most used and effective interventions across the field of Applied Behavior Analysis. This is an evidence–based strategy with decades of research. Token systems have been successfully used by educational and rehabilitative settings since at least the early 1800s. Token reinforcement systems are among the most successful interventions for behavior change.
Want to be notified of new articles and resources from Green Tree Schools? Click here to submit your email and opt into our newsletter.