Blog
Team Member Spotlight: Kweku Akoto - Lead Behavior Manager
Posted: March 24, 2023 | Written By: Lauren Douglas | Category: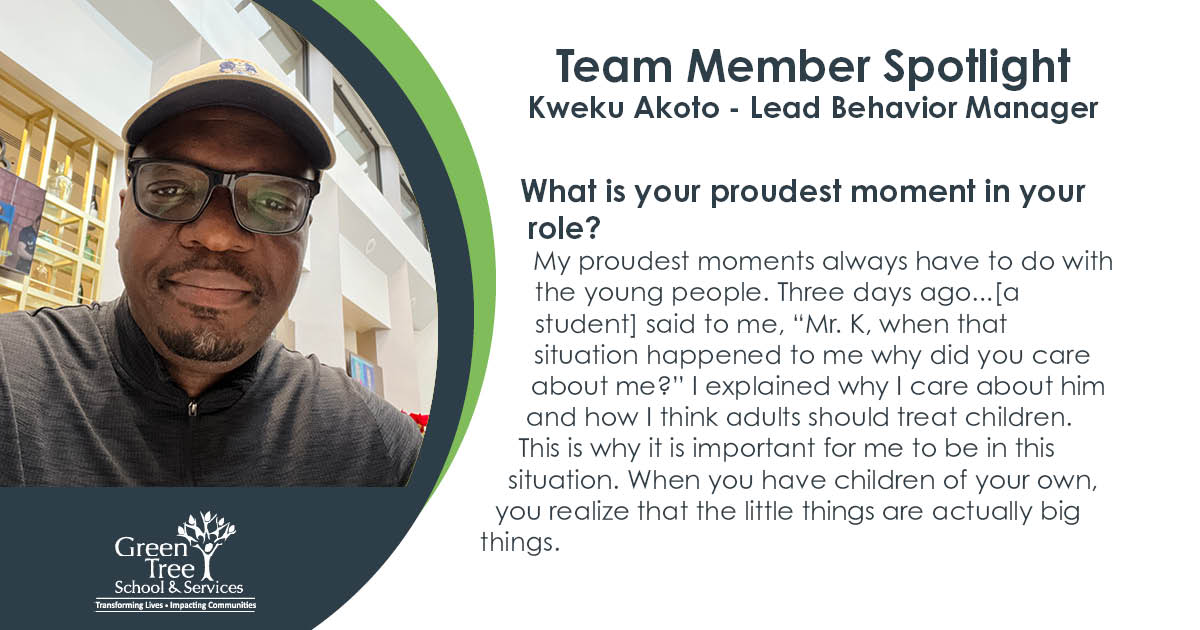 Kweku Akoto, a Lead Behavior Manager at Green Tree Schools in Philadelphia, PA, joined the team in 2021. Learn more about his career path, how he makes an impact on students' lives, and what keeps him coming to work each day.
Q: What is your favorite thing about working here?
It's a combination of colleagues, specifically my supervisor, and his supervisor are a big part of why I am here. I also enjoy working with the autism spectrum population, because the work provides a lot of balance for me professionally.
Q: Can you talk a little bit about your career trajectory and what led you to where you are now? 
I started in a school similar Green Tree in 2000, and was there for three and a half years. Working at Green Tree is the first time I have been at a school since then. I've been working with children my whole career. In my 24-year career, I have mostly worked with at-risk or high-risk adolescents and families. I've worked in juvenile justice in every capacity including the detention center. It's refreshing to be in an educational setting again. Each job I have had has been an intentional move to see something different every 2-3 years.
Q: What does a "day in the life" look like for you?
As the lead high school behavior manager, I work with emotionally disturbed (ED) high schoolers, but it's also my first time working with an autistic population. I'm responsible for the high school wing – both behavioral and young people on the autistic spectrum.
Q: How is it different than what you've done before?
Before I was working in Washington, D.C., Level four special education school, primarily with young people with behavioral issues. Most of them had been in foster care or adjudicated in the juvenile justice system – they committed crimes and were detained or arrested. When I moved to Philly, the opportunity to come here and work with these young people has been refreshing change of pace.
Q: What has been your proudest moment or accomplishment in your role? 
My proudest moments always have to do with the young people. Three days ago I had a young person here who requires a lot of attention. He has been a bit challenging and has had a few incidents with staff. He and I were discussing an incident he had with a staff member, and he said to me, "Mr. K, when that situation happened to me why did you care about me?" I explained why I care about him and how I think adults should treat children. This is why it is important for me to be in this situation. When you have children of your own, you realize that the little things are actually big things.
Q: What keeps you coming to work each day? 
No matter how much I try to move out of this field, there are no other fields like this one. It's great to be around colleagues who share the same sentiment. If you're going to work for someone else, it should be in the field of human services. The reward is so much bigger than monetary.  When I have 10 kids in arrivals who run across the parking lot to greet me in the morning – it's more than enough.
Q: How do you make an impact on students' lives? 
Consistency. I learned a long time ago, you have to meet them where they are but don't stay there. Modeling is the biggest impact you can have, no matter the lesson. We don't give young people enough credit for being the most observant creatures on the planet. It's not just treating them the way they want to be treated, because sometimes they don't know how they should be treated. It's modeling how they should be treated.
What is something about you that not many people know? 
I actually had an opportunity to be a full-time African percussionist. I grew up playing African percussion and I could have had a career traveling and playing.
Anything else you'd like to add?
I want to thank Clinton Nelson for bringing me on board. There are really good people working at this location who want to do good things for youth and families.
Want to be notified of new articles and resources from Green Tree Schools? Click here to submit your email and opt into our newsletter.