Blog
Team Member Spotlight: Sheena Watkins
Posted: April 18, 2023 | Written By: Drew Delligatti | Category: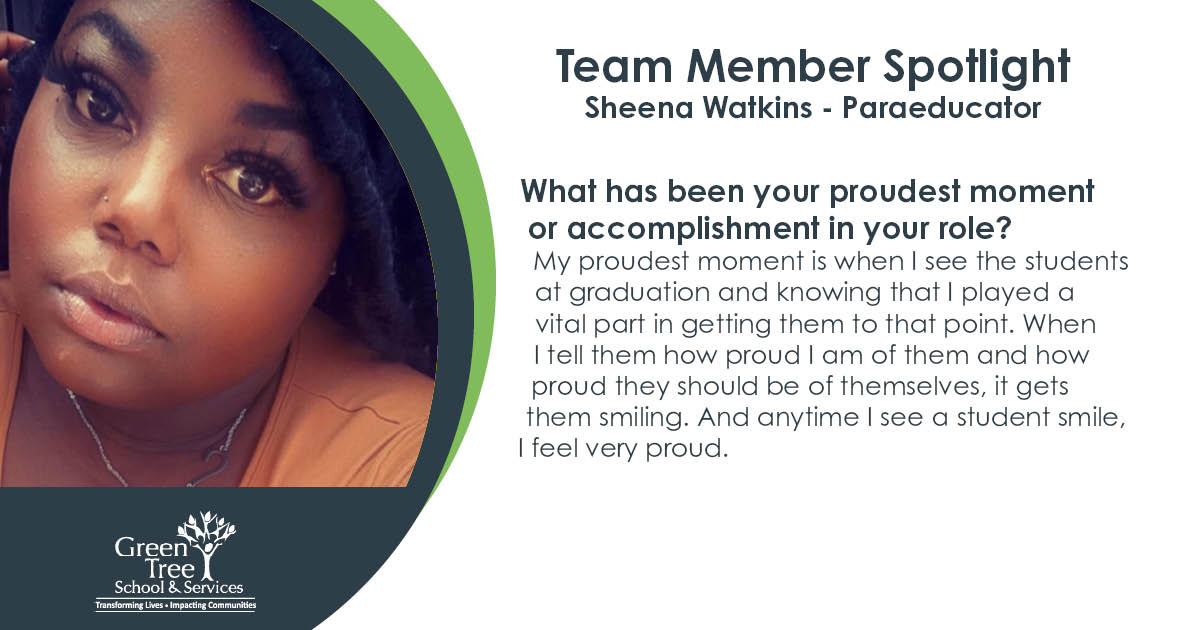 Sheena Watkins, a paraeducator at Green Tree School and Services, spreads kindness and positivity to all her students. Read on to learn what she enjoys most about her role. 
Q: What is your favorite thing about working here?   
My favorite thing about working for Green Tree School and Services are the students. I have been in this industry since I was 18 and I love what I do. I enjoy coming to work every day. Everyone here is very supportive and family-oriented.  
Q: What keeps you coming to work each day?   
I feel like I make a difference at my job. I am a huge asset here and it gets me excited to come to work. I work with such great staff and students. I don't miss time because we have some students who don't get that motherly love when they are home. I want them to know that I am always here to talk and give them a hug. They can communicate to me what they cannot communicate to others, which is a huge motivation for me.  
Q: How do you make an impact on student's lives?   
Whether I am at work or at home, I am the same person. I am there for my students whenever they need me. If you choose to work with students with autism, you need to have love and passion. So, this is my passion. I love doing what I do because I can connect with everyone. I communicate with my students on the weekend. I have a student who calls my own children on my phone. He likes to talk to my children because his siblings are older. This allows him to call himself the "big brother," and my children love him.  
Q: What does a "day in the life" look like for your role?  
A day in the life of a paraeducator is very detailed. My teacher and I communicate very well and we play off of each other. When I come into work, I get ready for the day. I go from setting up the classroom to helping students off the bus. I play a pivotal role here as I can do anything. Any time my supervisor asks me to do anything, I have no problem doing it because she trusts me to handle the job correctly.  
Q: Can you talk a little bit about your career trajectory and what led you to where you are now?   
I have a few family members who were in denial about their kids and couldn't figure out exactly what was going on. I was always willing to help with my family members. I knew being a teacher or daycare provider is what I wanted to do for a career due to me being very generous and understanding. And now I am going back to school to become a teacher.  
Q: What has been your proudest moment or accomplishment in your role?   
My proudest moment is when I see the students at graduation and knowing that I played a vital part in getting them to that point. When I tell them how proud I am of them and how proud they should be of themselves, it gets them smiling. And anytime I see a student smile, I feel very proud. 
Q: What is something about you that not many people know?   
I am obsessed with racecars and motorcycles. Only one or two people here know that I love riding motorcycles and fast cars, even though it isn't very safe. But I still love it.  
Want to be notified of new articles and resources from Green Tree Schools? Click here to submit your email and opt into our newsletter.